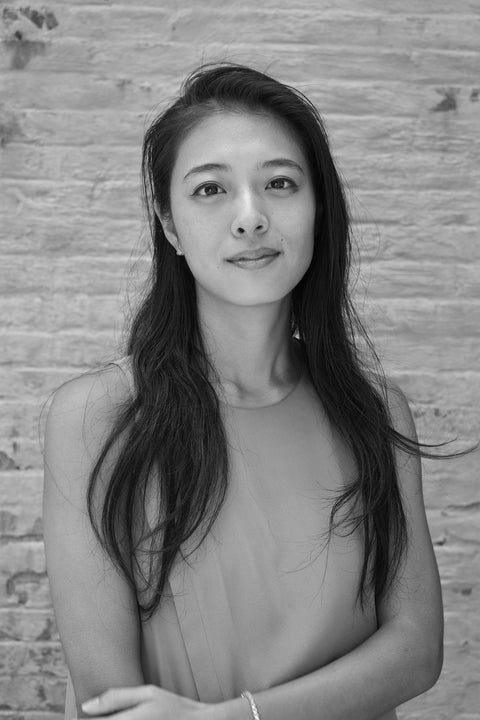 Creative Community Builder // Maika Nakaoka
Nurturing Sustainable Communities
Maika Nakaoka is a community builder who believes in the power of creativity and collaborative community, hosting and participating in various gatherings and events to connect with brilliant souls and minds. Maika currently serves as the Head of Creativity at the Swarovski Foundation, which focuses on three key areas: culture & creativity, human empowerment, and environment. Leveraging her background in the fashion and creative industry, she also leads the Swarovski Foundation's flagship initiative, Creatives for Our Future. This program, in partnership with the United Nations Office for Partnerships, is dedicated to identifying and nurturing emerging creative talents committed to advancing sustainable development.
Iroha: Please tell us about your past work, projects, or initiatives. 
Maika: After working in the fashion industry for a decade, I learned so much about the pollution and destructive side of the industry, and I was conflicted if I wanted to remain. However, I saw so much potential and hope for the fashion and creative industry through a conscious design initiative called "One x One." This innovative program paired three fashion designers with a scientist or creative thinkers to propose sustainable design solutions that can be scaled up to create a more sustainable fashion design system. Through the initiative, I got to work with Phillip Lim, who sparked my passion for fashion and art years ago. He was paired with a brilliant creative researcher, Charlotte McCurdy. The pair created a beautiful cocktail dress made with algae-based sequins, showing that sustainable fashion can be fun and luxurious. I felt like this initiative showed the fashion and creative industry how it can evolve for the next generation by incorporating regenerative resources and promoting more sustainable, innovative materials. 
Iroha: Tell us about the work or project you are currently working on.
Maika: Creatives for Our Future is a grant-funding program that identifies the next generation of creatives who are leading innovative solutions through creativity. We select six cohort members annually and empower them through a combination of financial support and educational programs, which include one-on-one mentoring sessions and master classes with industry leaders and industry convenings/networking opportunities to bring their groundbreaking ideas into reality. One of the program alumni, Joshua Ichor, is from a rural village in Nigeria. Joshua suffered from a severe typhoid fever and almost lost his life when he was ten, when he vowed himself to invent a device to monitor the community water supply system. Twelve years later, he designed and developed the device through the Creatives for Our Future program. His innovation increased the accessibility to clean water for the communities in sub-Saharan Africa, providing more than 50,000 liters of water to 10,000 people every day. With this innovation, he has been recognized by multiple competitions and organizations and received additional funding to continue improving the water sustainability through his innovations. We hope to continue empowering such innovative trailblazers around the world and provide tools and resources. Last year, we had only two applications from Japan out of 300 applications received from 55 counties. I truly hope we see more Japanese applications this year. 
Iroha: What projects are you planning to work on in the future?
Maika: We will continue launching new rounds of Creatives for Our Future to support creatives to lead innovative solutions. We will also continue assessing the program's impact and making improvements. If you have any questions or suggestions, please email cfof@swarovskifoundation.org.
Iroha: Have you been involved with any organizations or activism to address the problem of Asian hate?
Maika: As a part of an action fund, Swarovski Foundation supported Womankind NYC, an organization that provides shelter and legal services for Asian and Hispanic women who are victims of gender-based violence. During COVID and the peak of Asian hate crimes, there was a lot of support for Asian Americans or Asians with legal status; however, those who had no immigration status had almost nowhere to go, leaving them no with options but to bear with the violence or lose shelter. 
As Womankind is specialized in supporting Asian women regardless of visa or legal status—and I am very aware of the difficulties of obtaining a visa in the US—we thought it would be imperative to support this group, leaving no one behind. 
Iroha: Regarding the Asian glass ceiling, what is your advice to younger Asians?
Maika: Though diversity is progressing in New York, I still sometimes find myself as the only Asian or one of (very) few Asians at conferences and industry events. The barriers might be there, but these barriers might have been built by ourselves. Sometimes we can break them by simply participating and being a part of the conversation. The opportunities are there, especially in New York. I truly hope we get to see more proactive young Asians.
Iroha: Do you have any advice or a message for young people who want to follow in your footsteps?
Maika: It's rather general, but following your passion and knowing yourself are imperative to the pursuit of your mission. "What do I want in my life?" "What makes me happy?" I kept asking myself those questions—and I still do. Most of the industry leaders I've met long knew their life's purpose and strongly believed in themselves, and thus they became the expert among experts. In my case, though I don't have specific artisanal skills or scientific knowledge, I always loved putting together events both privately and professionally, creating a clear path for creatives and connecting people. Once I acknowledged that my calling is to build communities, all my work became community-related, both professionally and personally.
Iroha: Outside of work, what are you most interested in right now?
Maika: Well-being, meditation, and yoga. I have been practicing yoga for eight years, and it has completely changed my health and my life. I used to get sick quite often, but since I started eating well and practicing yoga, I rarely get sick. Now that I have a better understanding of the relationship of body and mind, maintaining good health is a very important part of my life both privately and professionally. 
I also realized maintaining inner peace is the best medicine for stress, thus meditation has been another important practice in my life. 
Rick Jarow's Creating the Work You Love, Alchemy of Abundance, and The Ultimate Anti-Career Guide are my bibles, as he explains how inner peace and spirituality can lead to your "dream job."
written by Susan Miyagi McCormac
Maika Nakaoka Wbsite | Linkedin