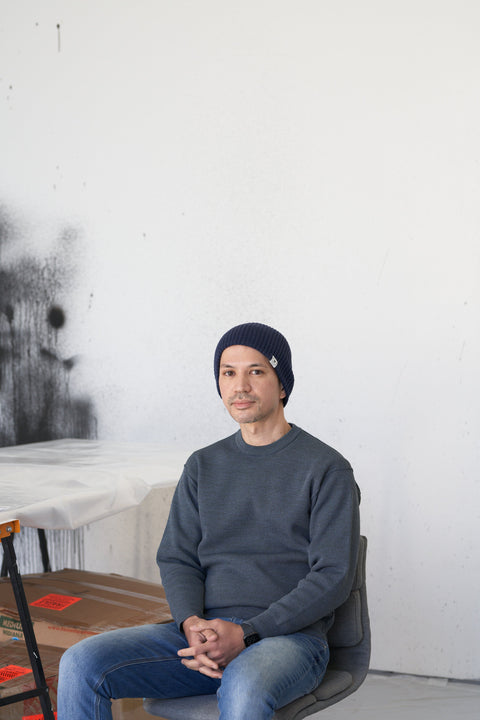 Contemporary Art and Street Culture // Enrico Isamu Oyama
Modern Artistry Inspired by Aerosol Writing*
Enrico Isamu Oyama creates visual art in various mediums that feature Quick Turn Structure: the motif composed of spontaneous repetition and expansion of free-flowing lines influenced by aerosol writing (spray painted writing; graffiti) from 1970s/1980s New York and beyond.

Enrico was born in Tokyo to an Italian father and a Japanese mother. Growing up, his family visited the Veneto region of Northern Italy every summer for over two decades. Spending time alternating between Tokyo as a megalopolis and Northern Italy's quiet countryside trained Enrico to view the world from different angles.

Enrico became interested in aerosol writing while he lived in Veneto from 2000 to 2001. After returning to Tokyo, he started drawing line patterns in black and white with three-dimensional depth. Enrico established this as his signature style in the Tokyo underground art scene through the early to mid-2000s.

After gaining his Master of Fine Arts degree at Tokyo University of the Arts in 2009, Enrico named his motif Quick Turn Structure and immersed his practice into the midst of contemporary art and street culture. Enrico authored the book Against Literacy: On Graffiti Culture and edited the special issue on aerosol writing for Japanese art magazine Bijutsu Techo. He has also collaborated with brands such as Comme des Garçons and Shu Uemura.

In 2011, Enrico visited New York for six months as a grantee of the Asian Cultural Council. Since then, he has lived and worked in New York, being active both as an artist and a critic linking contemporary art and street culture at multiple levels. His first museum solo exhibition, Ubiquitous: Enrico Isamu Oyama, was held at the Marianna Kistler Beach Museum of Art (Kansas, US) in 2017.
1. Enrico Isamu Oyama, FFIGURATI #439, 2022, Polypropylene sheet and aluminum pipe / mixed  media, 48 x 47 x 47 cm, Installation view from solo exhibition "Altered Dimension" at Keio Museum Commons, Tokyo                                                                                                     
Iroha: What projects are you currently working on? What have you most recently completed or plan to do soon? 
Enrico: In 2022, I participated in five solo exhibitions and three group shows. Curated by Akiko Ichikawa, my solo show, Rock Show, Sick I go, was held at The Gallery near Union Square in New York where I collaborated with Michelin Star Chef Hiroki Odo. My Quick Turn Structure mural painting on the outdoor dining structure was on the display for about two months. Inside the gallery, I did a live performance and also created an installation using the street ad method called Wild Posting, which is the fast street-level placement of advertising posters throughout cities.
2. Enrico Isamu Oyama, FFIGURATI #404, 2022, Inkjet on adhesive vinyl on outdoor dining structure, 11.2 x 2.6 m, Installation view from solo exhibition "Rock Show, Sick I Go" at THE GALLERY, New York
I also did two solo exhibitions in Tokyo last year, Paint Blister held at NADiff a/p/a/r/t in Ebisu from February to March and Altered Dimension held at Keio Museum Commons from October to December. These were great opportunities to delve into the exploration of the intersection of the 2D and 3D aspects of Quick Turn Structure.

In addition to multiple solo exhibitions next year, I plan to publish a collection of works, create murals for large buildings, and collaborate with large and small brands. Currently, I am preparing for my first position as an artistic director for a new art fair in Tokyo. In addition to presenting my own work, I am inspired and excited by the new challenge of working with a team to create opportunities for the exhibition of work by many other artists.
3. Enrico Isamu Oyama, FFIGURATI #366, 2022, Adhesive vinyl on glass wall, 6.51 x 4.68 m, Installation view from solo exhibition "Paint Blister" at NADiff a/p/a/r/t, Tokyo
Iroha: What are your thoughts regarding Asian hate and Asian glass ceiling issues?
Enrico: In Western society today, I don't know if Asian communities have yet established strong societal identities. Stereotypically, Asians tend to be raised to not be too confrontational but instead cooperative, so I suppose it is difficult for them to advocate for themselves in a competitive society. This is possibly due to language barriers or communication differences. Regardless, as a result, Asians continue to be viewed as people based in Asia, not the West, so perhaps they feel as though they cannot ever take leadership roles in Western societies. This has persisted for a long while, so maybe this was the start of the emergence of Asian hate crimes and the Asian glass ceiling.
However, the situation is changing overall and within art and pop-culture. Music groups like BTS and K-Pop in general are becoming very popular in the West. Japanese comics and anime culture are now part of the global pop-culture recognized around the world. There is no longer a need to specify racial backgrounds for these things because they are now a part of global culture and no longer ultra-specific to Asia. This has led to many recent breakthroughs in the Asian glass ceiling.
Interestingly, the recognition of these cultural elements arises not from the Asian communities in foreign countries but from their strong fan bases in their home countries. It is only from there that their popularity spreads around the world.
Asians who move to the West as adults still find it very difficult to succeed, assimilate, and compete in the West. Asians born in these Western countries have a little bit more of a leg up since they grow up within their respective Western culture.
Given these difficulties, it is most important to analyze your strengths and weaknesses. Explore your own uniqueness and seek your own path to success. Maintain connections within your home country and develop your own style to convey your message to the world before jumping into Western society without a clear path. The world is big. You can seek various possibilities from various entry points.
4. Enrico Isamu Oyama, FFIGURATI #441, 2022, Polypropylene sheet and aluminum pipe / mixed media, 49 x 47 x 47 cm, Installation view from solo exhibition "Altered Dimension" at Keio Museum Commons, Tokyo
Iroha: Based on your background, do you have any advice or a message for young people who want to follow in your footsteps? 
Enrico: We're in a transitional period in which many things are happening in the world, such as the pandemic, the war in Ukraine, and an anti-globalization phenomenon that has grown over the past several years. It's hard to find stability, yet we are also in a time when you can create a future based fully on your own actions and abilities. You can create your own niche and advantages. Take action and bring your talents to people who want what you have to offer.
Iroha: Outside of work, what are you most interested in right now?
Enrico: There are so many things, but because I am an artist, my work as an artist comes from my own life and sensitivities. Everything is interconnected.
*Oyama uses the term "Aerosol Writing" instead of "Graffiti" because of his understanding and interpretation on the culture and its history.
written by Jessica Woolsey  photography: ©︎Go Itami(portrait), ©︎Katsura Muramatsu (Calo works/ 1,4), ©︎GION(2), ©︎Shu Nakagawa(3)  All artwork images ©︎Enrico Isamu Oyama