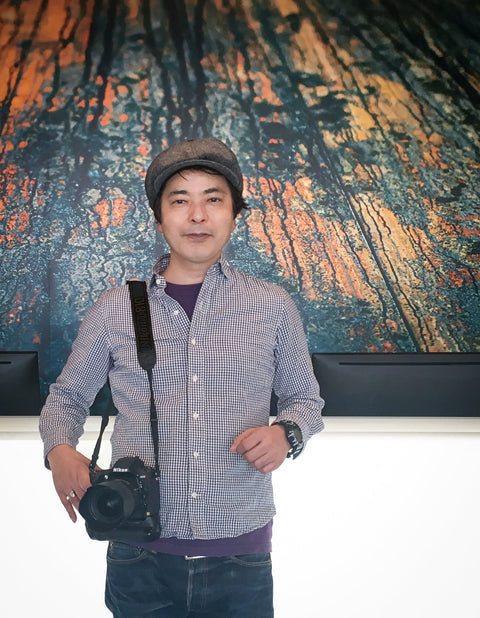 Storytelling Photography // GION
Capturing the Transformation of the Community
GION was born in Okayama Prefecture, Japan. He earned his degree in Japanese Language and Literature from School of Education, Waseda University, where he also served as a stage director during his years of study. Through stage directing, GION learned about the full concept of a "story" and how to build and communicate one to a large and diverse audience. Today, he applies these techniques in his photography and believes they are the most important aspects of his art.
 Mark Grotjahn
Since moving to New York in 1993, GION has collaborated with artists including The Barnstormers and Noritaka Tatehana. His website features portraits of icons both Eastern and Western, young and old, such as Woody Allen, Wes Anderson, Natalie Portman, Ryuichi Sakamoto, and Eli Broad. GION has also published books featuring images he shot in Williamsburg, Brooklyn. GION's clients include many fine art and culture magazines, who have been documenting works of art, their artists, and their relevant settings for over a quarter of a century. 

vessel
Iroha : What projects are you currently working on? What have you most recently completed or plan to do in the near future? 
GION : I have lived in Williamsburg in Brooklyn, New York since 2001, and I have been working on a 20-year project to capture the transformation of Williamsburg, from an idyllic era of skate culture and artist communities, through the Brooklyn boom driven by small businesses started by creators, to a period of competitive redevelopment through gentrification.
Three of my projects, Riverside Story 1 & 2 and Domino Sugar Factory, capture the transformation of the community over the past 20 years as an urban landscape. Another project of mine, Future Century NY, a series of photos and essays introducing the latest architecture in New York City, was published in Switch magazine in 2020.
432 Park Avenue
Iroha : What are your thoughts regarding Asian hate and Asian glass ceiling issues? In the rise of Asian hate crimes, is your community (local, artist, business, etc.) affected in any way? How do you feel about that, and are you involved to address the issue? If so, please tell us how. Alternatively, you can also talk about Asian glass ceiling issues or any other cause you personally support.
GION : When it comes to Asian hate and discrimination, I don't have bad experiences of my own to tell you about - partly because I live in Williamsburg where many young, liberal creatives live. I felt more discriminated against as an Asian when I lived in the Upper East Side.
Through my work, I often photograph top creators from various fields. They are more likely to treat people in general or other creators as equals, often with some respect for Japanese culture.
Jeff Koons
Iroha : Based on your background, do you have any advice or a message for young people who want to follow in your footsteps?
GION : It is cliché but, "Always do your best."
Iroha : Outside of work, what are you most interested in right now?
GION : Cooking. Like art and architecture, you build various elements together to make a cohesive sense at the end. But you can enjoy to taste, making it most accessible and enjoyable. Since the pandemic, I've been cooking daily.
written by Jessica Woolsey / photography: GION