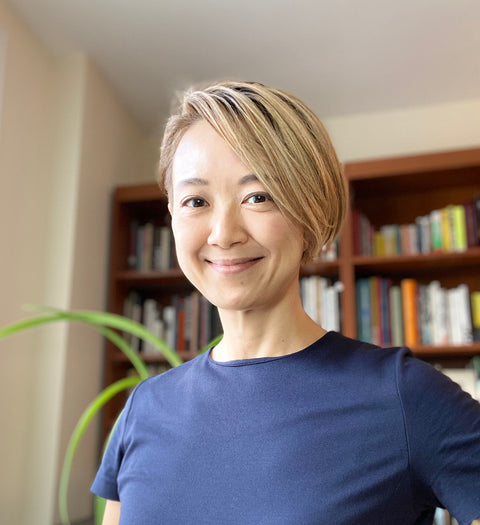 Contemporary Japanese Art Curation // Miwako Tezuka
Bridging Cultural Backgrounds Through Visual Art
Miwako Tezuka is an art historian and curator. She received her B.A. in Art History from New York University and her Ph.D. focusing on post-1945 Japanese avant-garde art from Columbia University. In 2003, Miwako co-founded PoNJA-GenKon (Post-Nineteen-forty-five Japanese Art discussion group), an online network of scholars, curators, and artists. Under the co-directorship of Miwako and Dr. Reiko Tomii, PoNJA has grown to over 300 global members and collaborated with esteemed museums and academic institutions including the Getty Institute, the Guggenheim, MoMA, the University of Chicago, Yale University, etc.
In 2005, Miwako became the Curator of Contemporary Art at the Asia Society Museum in New York and worked with major artists including Mariko Mori, Yoshitomo Nara, and many others. She also worked on building the museum's new core collection of contemporary Asian art. In 2012, Miwako accepted the position as the gallery director of New York's Japan Society as the first Japanese national in the position in the organization's 100-year-long history. During her tenure, she spearheaded a new creative direction with transhistorical exhibitions and an artist residency program. She is currently Associate Director of the Reversible Destiny Foundation, a progressive art foundation established by Shusaku Arakawa and Madeline Gins in New York.
Iroha : What projects are you currently working on, and what do you want to mention most recently or in the future?
Miwako : Most recently, I worked as Associate Curator of the Hawaiʻi Triennial in Honolulu (Feb 18–May 8, 2022). This edition of the triennial, titled "Pacific Century—E Hoʻomau No Moanauiākea", was directed by Melissa Chiu, director of the Smithsonian's Hirshhorn Museum and Sculpture Garden in Washington, D.C. Working together with my co-Associate Curator Drew Kahuʻāina Broderick based in Oʻahu, we realized this major presentation of 43 artists and collectives from the Asia Pacific region and the continental U.S., partnering with seven major venues throughout Honolulu: Iolani Palace, Honolulu Museum of Art, Bishop Museum, Foster Botanical Garden, Hawaiʻi State Art Museum, Hawaii Theatre Center, and Royal Hawaiian Center. 
Another recent curatorial project was the first contemporary Asian art exhibition at the Hancock Shaker Village in Pittsfield, MA titled "A Spirit of Gift, A Place of Sharing—Yusuke Asai, Kimsooja, Pinaree Sanpitak" (May 30–Nov 14, 2022). This exhibition of three Asian artists incorporated five historical buildings in the Village, the oldest one dating back to 1780. Each artist installed works that responded to the Shaker's history, architecture, and spiritual and material cultures.
A Spirit of Gift, A Place of Sharing, 2022, Hancock Shaker Village, MA. Exhibition catalogue design by Natasha Mileshina.
At the Reversible Destiny Foundation, I am currently working with the University of Hawaiʻi at Mānoa on an exhibition of Arakawa and Madeline Gins, scheduled to open in the Fall of 2023. Curated by UH Galleries Director Maika Pollack, this exhibition focuses on the relationship between the body and the mind. The highlight of the show will be Arakawa's interactive installation Ubiquitous Site X (1987–1991/2022)—the first reinstallation of this significant work since 1992 and its first-ever presentation outside Japan.
Arakawa, Ubiquitous Site X, 1987-91, mixed media. © 2018 Estate of Madeline Gins
Iroha : How do you see your role in society (in the context of increasing Asian hate crime for example) or in business (breaking the Asian glass ceiling for example)?
Miwako: My role in society is to create a bridge between people from different cultural backgrounds through the language of visual art. Being able to work with many creative artists, I am constantly reminded that art generates a spirit of experimentation and reveals the value of risk-taking. Truly meaningful art is courageous, and it fosters open-mindedness that we need today as a countermovement against prejudice of all kinds. As a curator, I "translate" often complex and challenging ideas embedded in artistic expression into exhibitions that provide stories and experiences so that they reach the interest of the broad public.       
Yuree Kensaku installation - 2022 HoMA 
Iroha : Based on your background, do you have any advice or message for young people who want to follow in your footsteps?
Miwako : When I first started to study contemporary Asian art, there was no such field. Nobody was interested. If something you think is valuable is commonly neglected or ignored, there is always a reason. I would encourage young people to ask questions about why something is the way it is and if there is something wrong or missing, try to fix it. Make lots of mistakes while trying. And, if you think you are the only one, that is the first mistake you are making, so learn from it.
Iroha : Outside of work, what are you most interested in right now?
Miwako : Reading and watching documentaries about high-altitude mountain climbing.
written by Jessica Woolsey / phtography : Kelli Bullock Hergert