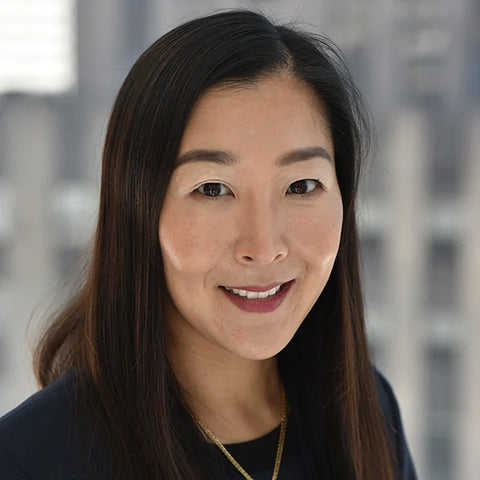 Real Estate Development and Investment // Megumi Brod
Breaking Barriers and Supporting Diversity
Meg (Megumi) Brod is the Senior Managing Director and head of Rockefeller Group for the Northeast Region of the United States. She is a highly experienced real estate developer and investor. Since joining Rockefeller Group in 2017, Meg has significantly expanded the Northeast Development Pipeline with three residential development projects and the company's first two industrial projects in Long Island. Under her leadership, the company secured its first ground-up condominium project in Manhattan, named Rose Hill, as well as the highly successful joint venture condominium development with Naftali located at 200 East 83rd Street. In 2022, Meg led a joint venture partnership with the Park Tower Group to develop the company's first multi-family development in Brooklyn at Greenpoint Landing.

Prior to joining Rockefeller Group, Meg served as a principal at Bedrock Real Estate Partners and has also worked for Equity Residential, Tishman Speyer Properties, Pritzker Residential, Wellington Management Company, and J.P. Morgan. Meg holds a bachelor's degree from Duke University and an MBA from Harvard Business School. As a member of the REBNY board of directors, a Trustee of the Citizens Budget Commission, and an active member of WX New York Women Executives in Real Estate, Meg promotes diversity and offers mentorship to many young women facing challenges she herself found ways to overcome.

Unsurprisingly, Meg has received numerous recognitions and awards, including being named as one of Bisnow's "New York Power Women", Crain's Notable Women in Commercial Real Estate, and Crain's Notables in Real Estate 2021.
Iroha: Please tell us about your past work, projects or initiatives
Meg: I am finishing up a condo building called Rose Hill in the NoMad (North of Madison Square Park) section of Manhattan. It is located at 30 E 29th Street between Park Avenue and Madison Avenue. NoMad has become the go-to place for people seeking a centrally located neighborhood with a rich culture and a vibrant restaurant and bar scene.

This year, we will also complete an Upper East Side condominium at 200 E 83rd Street. Given the location at the intersection of Third Avenue and 83rd Street, this building is a "family-friendly" building with floorplans and amenity packages that meet the desires of families.
Additionally, we are working on an exciting new project in Greenpoint, Brooklyn which will be a 381-unit apartment building that will be 70% market and 30% affordable units. Expected completion in Spring 2025!
Iroha: Based on your experience, what will be your advice to younger Asians?
Meg: Bulldoze through the glass ceiling. Do not be shy and "play the game" according to the rules of engagement. Don't lose confidence, seek a diverse group of mentors, take risks, and speak up. Sometimes in Asian cultures, we are taught that we need to conform, follow directions, refrain from causing even the slightest trouble, and listen to those more senior than us, even if we don't agree. While there may be valuable lessons from this aspect of Asian culture, it can also get in the way of our breaking the Asian glass ceiling. Non-Asians who think Asian people are quiet and are likely to conform may take advantage of us. So speak up, let your voices be heard, and conquer the game.
Within the real estate industry, I have the privilege of being on boards of advisory groups of prominent real estate organizations such as REBNY, ULI, and WX. In this capacity, I have supported women and minorities through the mentorship of young women and by joining task forces that aim to promote further diversity within our companies and industries.
Iroha: Based on your work or background, do you have any advice or a message for young people who want to follow in your footsteps?
Meg: You can enter the field of real estate development from a variety of angles. Your educational background can also be varied and still aid you in becoming a successful real estate developer. This is because development is creative and analytical, and those who are successful are great problem solvers with excellent relationships. Development, however, takes time. So above all, you will need to have patience. This is a long game with delayed gratification. If you are interested in quicker results, perhaps this isn't the right fit. However, if your passion is place-making, constructing buildings from scratch, changing the skyline, and (hopefully) creating a better place for people to work/live/play/shop/dine, this is a fabulous profession and a lot of fun!
Iroha: Outside of work, what are you most interested in right now?
Meg: I enjoy spending time with my friends and family. My husband and I have three amazing kids. I enjoy traveling with them and exploring the world together. I also enjoy running, hiking, cooking, and being outdoors in my spare time.
written by Jessica Woolsey