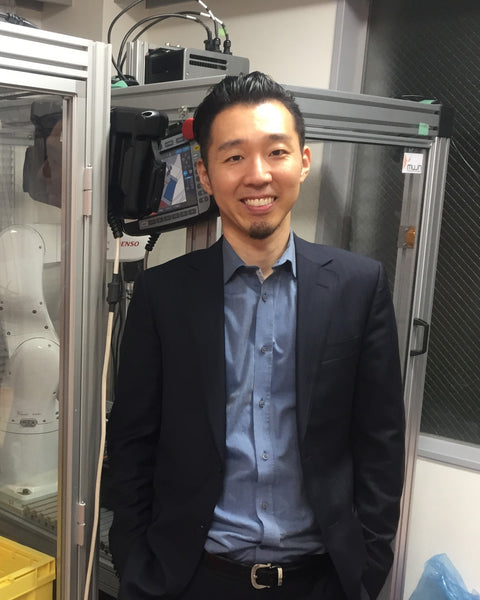 From Law to Entrepreneurship // Yuki Shirato
Trailblazing Startups
Yuki Shirato is a New York lawyer-turned-entrepreneur. As a startup enthusiast, he organizes an angel investment platform called Yakumi and has invested in, and advised, dozens of startups globally. 
Angel investing connects individual investors with early-stage startups, helping entrepreneurs find necessary funding and professional advice for their operations and potentially yielding profits for the investors in the future.
Yuki is currently a founder of Braid Technologies, a deep-tech startup which aims to integrate physics, mathematics, computer science and AI in order to further push the boundaries of human creativity and engineering, going far beyond traditional design. 
Yuki is also a co-founder of Narō, a video streaming service featuring Japanese legends who share their life stories and expertise in their respective crafts, and Aquila Systems, an AI-based optimized scheduling solution SaaS (Software as a Service) for medical staff.
Iroha: What projects are you currently working on? What have you most recently completed or plan to do in the near future?
Yuki: I am a founder of Braid Technologies. We have a diverse and global team of 13 professionals from eight countries. My co-founders are a physicist from Italy and a computer scientist from Portugal who studied in the U.K. I am also an initial member of two other trailblazing startups: Narō, and Aquila Systems. My short-term goal is to lead those companies to global success.
Iroha: What are your thoughts regarding Asian glass ceiling issues?
Yuki: I used to hear the phrase "Bamboo Ceiling", which I think feels more fitting given the racism this phenomenon is rooted in. Prior to working in startups full time, I was a New York qualified lawyer working at U.S. and Canadian law firms in New York, Toronto, UAE and Tokyo for about 10 years. The legal profession, and the finance industry to a certain extent, are clear examples of the Bamboo Ceiling. When I was working in New York during mid-2010s, the number of Asian students in top schools in North America was disproportionately high relative to the population. For example, if I remember correctly, Harvard and Columbia Law Schools' graduating classes were approximately 20% Asian, including international students from Asia. However, the same Asians held less than 10% of the associate jobs at top law firms in New York where a majority of their graduating classes work. Asians also made up single-digit % of the partners and managing directors at top law firms. This was similar or worse for other peoples of color. I found this to be quite shocking. I knew there must be some other factors than competence at play. I saw so many intelligent Asians students, and it did not correlate with the opaque interview and promotion processes at professional firms.
In the startup world, I also notice that there are significantly fewer Asian entrepreneurs, especially Asian women, as I've spoken with about 500 founders many of whom are based in North America. Some argue that Asians are followers not leaders; I completely disagree. From my personal experience, if I may over-generalize, Asians may be too reserved and do not self-promote or express their opinions enough.
I am passionate about deconstructing the Asian glass ceiling. I worked with the Asian Americans / Pacific Islanders organization to help Asian immigrants, especially those in the LGBTQ+ community who are minorities within the minority group, as a pro bono lawyer. I successfully led a pro bono asylum case for the Malaysian gay couple with HIV and also a transgender name change project to defend an African American transgender client from bullying of certain conservative judge. Nevertheless, I do not think I have done enough, to be honest, and I hope to continue helping others whenever I can with my skills and expertise. 
Iroha: Can you tell us more about your background? What has your experience living in Western countries been like?
Yuki:I was born and raised in Tokyo. I grew up in the area where many families of diplomats live and was fortunately exposed to multicultural households from early on.
In addition to Cambridge, U.K. and Vancouver and Toronto, Canada, I lived in the U.S. in a few cities: Bakersfield, California, with a conservative Catholic host family; Berkeley, California, at the International House with hundreds of international students; Durham, North Carolina, just off campus of Duke with a South African roommate; and New York City with a Chinese roommate and by myself. Having lived in those environments gave me a unique perspective of the world which I would have never experienced in Japan.
I am openly gay. While I never faced any open discrimination in Japan, I often felt I needed to change my attitude or not to talk about my personal life to fit in or worse to live a double life. Being different has not always been a blessing in Asian cultures, particularly Japan, where conformity and harmony is highly valued. I found the U.S. to be more progressive and accepting of different attributes and backgrounds of people. I discovered that Canada was even more so. Toronto where I spent 5 years felt like a naturally diverse city to me. New York attracts people because of its financial, media and fashion center status and the United Nations and the like, but Toronto doesn't really have such a draw. People just move there because they want to be there, and it was peaceful. While I was accepted to an Ivy League school, I decided to move to Toronto and earn my law degree there instead.
Now I live in Tokyo again, and have gladly found that the city has become more global, diverse and open-minded than 10-20 years ago. For example, the three startups mentioned are all co-founded with foreigners living in Japan.
Iroha: Based on your background, do you have any advice or a message for young people who want to follow in your footsteps?
Yuki: My background is clearly not straightforward. I often call myself a professional career changer. I have worked a few different jobs and changed careers a few times. I started as a trade negotiator and policy analyst out of Tokyo. I traveled around the world to Brussels, Geneve, Paris, Cancun, Washington D.C., etc., working with the government officials and other stakeholders advising Japanese companies of the World Trade Organization regulations. Then, I started a Ph.D. program, which I left after one year. I switched careers to being a management consultant advising global clients. Then, my friend started a business and opened my eyes to the world of start-ups. I also started a company with two engineers, which failed, and I realized that I would need to acquire an actual skillset. Thus, I earned my J.D./M.B.A. degrees in North America. As a corporate lawyer working globally, I became a legal and business advisor to startups from around the world. Finally, I took a leap of faith to join startups as co-founders.
I would tell people trying to follow me to pursue your passions at that moment. When you are determined, opportunities come about by following your gut instinct and meeting people with similar values and interests who will help you.
I absolutely had no idea when I was younger that I would end up doing what I am doing today. I was actually a very naïve, nerdy high school student back before the internet age. I only wanted to study and go to the University of Tokyo. I didn't even know what I wanted to study at college to be honest. 
So, I would say that it is totally okay to change your interests and goals throughout your life. It is impressive to know at 17 what you want to do and focus on that for the rest of your life. That is amazing, and some of those people become legends in their respective fields. However, not everyone knows at 18 or even 35 what they want to do and achieve in life.
Iroha: Outside of work, what are you most interested in right now?
Yuki: In my 40s, I am trying to be more physically active, start new things and relearn skills I had when I was younger. This year, I did a 50-meter bungie jump for the first time in my life. I skied a lot when I was little with my family and, after decades of absence from the snow, I started skiing quite often a couple of years ago. I used to semi-competitively swim in elementary school and now I am trying to catch up by going to a pool once a month. Within the next year or so, I want to try to relearn to play a sonata again.
written by Jessica Woolsey
Yuki's LinkedIn | Narō.tv | Instagram