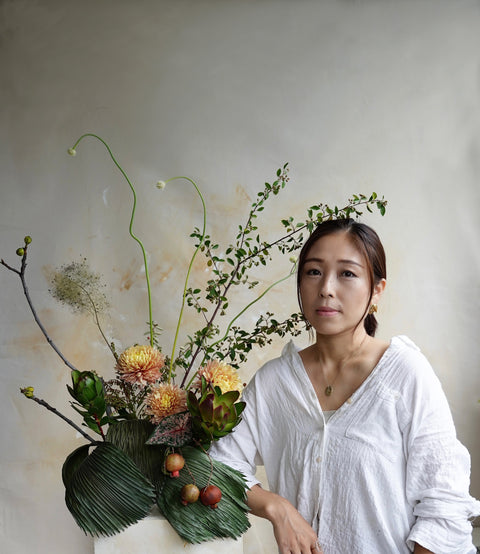 Floral Design // Eriko Nagata
Ikebana, Art Theory, and Design
Eriko Nagata was born and raised in Japan. In 2002, she started her career as a floral designer after studying European design and Ikebana (the traditional Japanese art of flower arrangement dating back to the Heian period from 794 CE to 1185 CE) at the floral design college in Japan. After working as an exclusive flower designer at The Ritz Carlton Tokyo, she moved to Paris, where she created floral arrangements for various famous fashion brand events, such as Paris Fashion Week. In 2015, Eriko moved to New York, where she founded and is the Lead Floral Designer for EriN Design International, a New York-based creative floral design studio specializing in floral design and visual direction for events, commercial shoots, and editorials. Guided by Ikebana, art theory, and design, EriN Design International focuses on aesthetics, including modern elegance, dreamlike, natural beauty, and seasonality. Eriko's deep appreciation and affection for nature and everlasting interest in art are reflected in each of her creations. She also ensures that her company employs environmentally conscious business operations, using eco-friendly materials in their ongoing efforts to support sustainability. Eriko has created floral set designs for various events, photoshoots, and shows, including New York Fashion Week. Her other clients include The Row, Diptyque Paris, Guggenheim Museum, Dior, Harper's Bazaar, Numero Magazine, and more.
Iroha: What projects are you currently working on? What have you most recently completed or plan to do soon?
Eriko: I recently worked with Bottega Veneta and Strand Book Store for their launch party event. I also created a floral centerpiece (pictured below) inspired by the colors of their current exhibition by Alex Katz for the Guggenheim Museum International Gala made possible by Dior. I made several mock-ups to find the best harmony of the contrasting tablecloths and plates. For the Isamu Noguchi Museum Annual Dinner and Noguchi Award Ceremony, I arranged flowers in various vases made by New York-based ceramic artists and selected by the Isamu Noguchi Museum of Art. The arrangements were displayed in the museum as party centerpieces. The vases were available for guests to purchase after the party. It was a meaningful event that created support for many artists.
Guggenheim Museum International Gala made possible by Dior 
Iroha: What are your thoughts regarding Asian hate and Asian glass ceiling issues?
Eriko: When the number of Asian hate crimes surged due to COVID-19, I cried when I saw Asian children and their families demonstrating in New York with signs saying "I'm not a virus." During that time, I donated a portion of the proceeds of my work to an organization that is active in the Stop Asian Hate movement. We also follow up with mentors and organizations that disseminate information on Asian American and Pacific Islander news. For example, Jenny Tzu-Mei Wang, PhD.

I choose to live in America. However, when I think about the feelings of second-generation immigrants and Asian children born in the United States, it pains me to think that they are being discriminated against because they are Asian, even though they were born in their own country. I sincerely hope that we, as adults, can change that so that people can be proud of us as Asians.
Some of the leading artists in the florist industry in New York are Asian. I don't think there was any discrimination in business even after COVID-19. On the contrary, in New York, there was also a focus on pop-up events, etc., to support Asian American and Pacific Islander-owned businesses.

There are many Asians who are active in various industries, so if society recognizes their abilities, the glass ceiling problem will probably be alleviated.
Isamu Noguchi Museum Annual Dinner and Noguchi Award Ceremony
Iroha: Based on your background, do you have any advice or a message for young people who want to follow in your footsteps?
Eriko: One of my favorite quotes from my teacher was, "If you want to be first-class, see and experience first-class things in various fields." Those special experiences are a valuable investment in yourself. I'm sure they will become part of your sensibility and make you shine.

If you have a passion for something, let it burn. If you do not allow your passions to burn, you won't be able to purify and perfect them no matter how old you are, and you will live a life full of regrets.

Time is the same for everyone.
Iroha: Outside of work, what are you most interested in right now?
Eriko: Spending time with my children. We explore and play in nature often. I also like looking at architecture, so I explore buildings with my children and take them to museums.
written by Jessica Woolsey