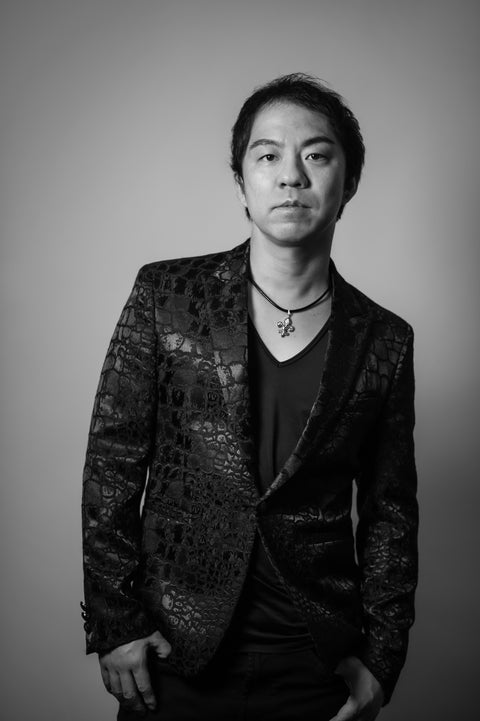 Magical Musicality // Masa Takumi
Enchanting Through Sound
Grammy winner Masa Takumi (also known as Masanori Takumi) is a Japanese multi-instrumental artist, composer, songwriter, and producer.
Masa was born in Osaka, Japan. His journey as a musician began at the young age of eight. Influenced by Yoshiki from X Japan, Masa started playing the trumpet in his elementary school's brass band. At 12 years old, he began to further explore his love for music, playing the drums and composing his first songs. By the time he had graduated high school, Masa had learned the drums, guitar, bass, and piano all on his own.
In 2001, Masa debuted under the major record label BMG JAPAN in the rock band Siren as their drummer, songwriter, and sound producer. After disbanding in 2004, Masa switched to working full-time as a composer and producer.
In Asia, Masa produced hits for many major artists, such as Exile, Da Pump, AAA, KARA, Lead, FTISLAND, Park Yong Ha, ViViD, Alice Nine, Dir En Grey, and more. Masa's top album sold over 2 million copies, and his work on AAA's album "Call" won the Excellence Album Award at the 53rd Japan Record Awards.
Masa has also worked with several major American artists, including renowned rock vocalist Eric Martin and drummer Terry Bozzio. Additionally, Masa has done soundtrack work for Japanese animation titles, such as "Claymore" and "Witchcraft."
In 2014, Masa received a nomination at the 56th Grammy Awards for the album "Reggae Connection," for which he worked as a guitarist and keyboardist with the legendary reggae musicians and producers Sly & Robbie. He also received another Grammy nomination in 2015 for his work with them on the album "Reggae Power."
In 2023, Masa Takumi's solo album "Sakura" was awarded Best Global Music Album at the 65th Grammy Awards. 
Iroha: What projects are you currently working on?
Masa: My first show following my Grammy win [was] on May 13th, 2023 at the Billboard Hotel in Roppongi, Tokyo.
Lately, I have been working with many different artists as a producer based in Meguro, Tokyo. Being a producer here in Japan is different from being a producer in the United States. Instead of work being project-based, my work here in Japan encompasses everything at the same time. I am guiding an 18-year-old girl through the creation of her debut album, producing music with a dancing boy band, and writing songs with my own lyrics for the first time in my life! I even recently composed the opening theme for a Fuji TV drama. To do it all at once has been very exciting. Every day is unique.
In February (2023), I was invited by the United States Ambassador to Japan, Rahm Emanuel, to the U.S. Embassy in Tokyo. It was a great honor to play my song "Sakura" on the wonderful grand piano located below a print of the famous photo of Emperor Hirohito and General MacArthur taken in that very same room. It was honestly a surreal experience.
Just this week (April 2023), I signed the documents that will allow me to receive my official Grammy Award statue! I am just waiting on the shipping time now that it has been engraved. This year, I am the only winner who resides in Japan. It is an honor.
Iroha: What are your thoughts regarding Asian hate and Asian glass ceiling issues?
Masa: I lived in Downtown Los Angeles for three years before Covid-19. Sometimes, I did face some discrimination. When I live in Japan, I am a very sensitive person. I often worry about what others think of me or my work. However, I made a conscious choice to not be too sensitive in the United States. I know I am an immigrant and that I am not American, so my life in America will be the experience of an outsider. I also choose to believe that most people do not intend to insult with questions or opinions. I allow myself to observe and experience things without allowing much of a personal reaction. Honestly, the majority of the time, people try to be nice to me and the discrimination feelings try to arise because people are trying overly hard to care for me and show me things. It sometimes feels as though they believe they are instructing a child, but I do not get upset. I appreciate the extra care even though, through it, people are showing me they do not think I am "one of them".
It is odd, but I feel the race problem in a good way, so I try to be as polite as possible all the time. Sometimes though, I need to negotiate, and I learned that if I am too humble, I won't get anything in the United States. I worry then that I can sometimes seem too aggressive instead, but Americans treat me well. Almost all of my interactions have been positive
But again, my experience was all before Covid. I have heard many negative stories from my Japanese friends who lived in the U.S. during Covid. I had been in America on an artist visa since January 2018. My visa was set to expire in January 2021, but when Covid measures began in 2020, I decided to return to Japan six months early. It was the right time to go. 
Regarding the Asian glass ceiling, I do feel it is present in the music industry. Very few Asian people are recognized or awarded at the highest levels of music, but especially the Japanese population is proportionally too low right now. Some years ago, a group of voting members for the Grammys implored the recording academy to be fair and racially diverse. At the time, almost all awardees were Caucasian. Then, First Lady Michelle Obama took the stage as a presenter with Alicia Keyes. The next year, many Black people won Grammys. Unfortunately, there are still very few Asians nominated, let alone selected as winners. Thus, I was extremely honored to be invited onto the stage, not only as an Asian but especially as a Japanese person because we Japanese are one of the least represented races even amongst Asian artists. There are fewer Japanese Grammy winners than there are Japanese gold medalist Olympians.
Iroha: Based on your background, do you have any advice or a message for young people who want to follow in your footsteps?
Masa: I have always believed the bigger the dream the harder it is to achieve. The important thing is knowing when to take a break. Also, don't say, "Never give up." Some people just might not be able to accomplish the extraordinarily big things, and that's okay! I think it is fine to change your dreams to something attainable. You might one day accomplish those big dreams, but it is easier to persist if you continue to push your goals further after accomplishing some more closely set goals.
Many people believe I am a positive person, but I'm the opposite. I actually think very negatively. I like to think that I am proof that even people who think negatively can keep up and persevere by knowing when to take breaks.
Also, don't forget how far you've already walked. Believe in yourself. Praise yourself sometimes for what you have already accomplished. Sometimes, we might need some alcohol (in moderation, of course) to help us keep our hopes up. That's fine and normal too! Engage in things that help you destress. The worst thing is to totally give up. Find a way to keep up with your dream. In my case, I try to forget the negative moments. In 2020, I was nominated for a Grammy, and I thought it was my last chance. It was the last year of my visa, so it was then or never. After I saw the results and learned that I had not won, I moved on. The next year, I didn't submit anything for consideration. Then, I made my "Sakura" album and decided to submit it for consideration for the next awards. And now, I have won and succeeded.
Don't forget what you've done, and don't give up on your future plans. No one is strong enough to start and reach the finish line without breaks.
Also, treasure the friends who praise you. They will give you the confidence to continue even when you feel like giving up.
Iroha: Outside of work, what are you most interested in right now?
Masa: I have a very specific hobby. My hobby is magic. In 2013, I passed my audition to become a member of the Magic Castle in Hollywood. My Magic Castle membership is my pride and joy. I can bring my friends and family with me now. 
Doing magic relieves my stress. I do not perform on big stages or at the Magic Castle, even though I am qualified. I feel there are too many other good magicians, so I am not confident. For example, I am privileged to call Cyril Takayama my friend. He introduced me to all the staff in The Magic Castle. Then, he fulfilled my lifelong dream! We needed to kill some time, so I got the opportunity to teach Cyril guitar, and he taught me magic. He is my magician celebrity idol. When I was 20 years old, I saw him on TV. Even today, I am a big fan of his. I was so proud when he attended and performed at my Grammys afterparty at Ovation on Highland Ave. next to the famed Chinese Theater following my Grammy win.
written by Jessica Woolsey | photography: Yumi Gejo (Except for the Grammy)
Masa Takumi : Website | Instagram | Facebook