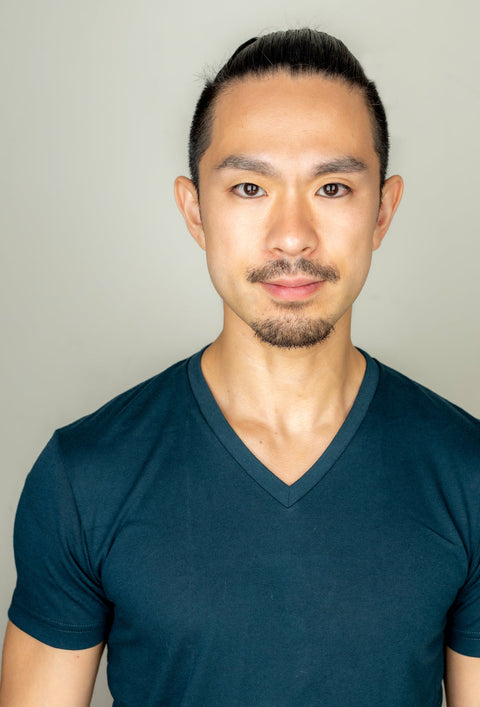 Dancing Ahead // Kentaro Kikuchi
Act Shamelessly and Seek Endless Possibilities
Kentaro Kikuchi has been a dancer with the Metropolitan Opera (MET) for 12 consecutive seasons since 2010. Kentaro has appeared in performances including Turandot, Madama Butterfly, The Magic Flute, Der Fliegende Holländer (The Flying Dutchman), and more. In Turandot, Kentaro performed many acting scenes, and in Madama Butterfly, he not only danced but also acted as a puppeteer. 
Kentaro started aerobic gymnastics in junior high at his parent's competitive aerobic studio. He won the All Japan Championship three times and finished fourth in the final World Competition. While hailed as a future leader in the sport, he decided to retire in college because the sport was not accepted by the Olympics. Instead, he pursued a dancing career in New York.
Kentaro's first audition was for Nixon in China. They were looking for an Asian cast, and Kentaro hoped his gymnastics and tumbling skills would give him an advantage in auditions. He was selected to be one of eight performers for the show out of the almost 300 dancers who auditioned. At the same time, he was also selected to perform in L'Orfeo under the same choreographer.
Kentaro recalls his mother telling him, "You cannot beat someone who is working harder than you." That moment motivated him to create a habit of practicing every day, which he believes has given him his success. 
Iroha: What projects are you currently working on? Please also feel free to mention what you have done most recently or plan to do in the near future.
Kentaro: I performed in the 2021-2022 Met Opera season of The Magic Flute and Eurydice. I am currently performing in Madama Butterfly at the Met Opera. My next performance is in Turandot in May 2022.Sometimes, I perform and film Japanese sword dances. I would like to do more in the future. You can see my work on Instagram @kentaro_newyork_life.
Iroha: How do you see your role in society or in business?
Kentaro: As for the role I can play, I think it is important to act shamelessly and proudly as a representative of Japan while living and working as a Japanese person in New York, USA. This will change the public's perspective on Asians. Discrimination is very disappointing and sad. However, I can understand some things from the perspective of people's psychology and human history.Despite this, I believe that we can change step by step because it is a new era. Take me for example. I now live in a country that my homeland used to be at war with, and I have friends from many different countries now.
Iroha: Based on your background, do you have any advice or a message for young people who want to follow in your footsteps?
Kentaro: My background is very strange. I am clumsy and not dexterous. I'm not smart at all. I'm not blessed with body shape. I started dancing when I was 22 (after starting gymnastics at 14), so I thought it was much too late to start dancing professionally, but it wasn't. I struggled more financially than most students studying in New York, but I practiced dance and worked part-time every day. Now, I still dance in the Metropolitan in New York, USA. I hungered for improvement. I craved to perform on a big stage. I constantly thought: How can I get better? Why am I so clumsy? How can I learn to dance so cool? How can I get through the audition? Why did I fail? Am I able to evaluate myself objectively? Do I always make excuses? Am I ruining things for myself? Now that I'm able to work in America, I think there are endless possibilities for young people to have whatever future they dream of.
Iroha: What is your favorite flavor of ice cream?
Kentaro: Green tea ice cream!!!!
Iroha: If you could go anywhere at all this year, which country would you most like to vacation in?
Kentaro: I would like to go to Japan. I couldn't go back for almost 3years because of Covid-19…
Iroha: If you could have any animal as a pet, what animal would you choose?
Kentaro: I have three super lovely cats right now, so if I were to add one more animal to the family, I would choose a dog, specifically a Shiba Inu.
written by Jessica Woolsey / photography: Nobuyuki Narita, Marty Sohl
 Instagram | Twitter | Facebook | Youtube