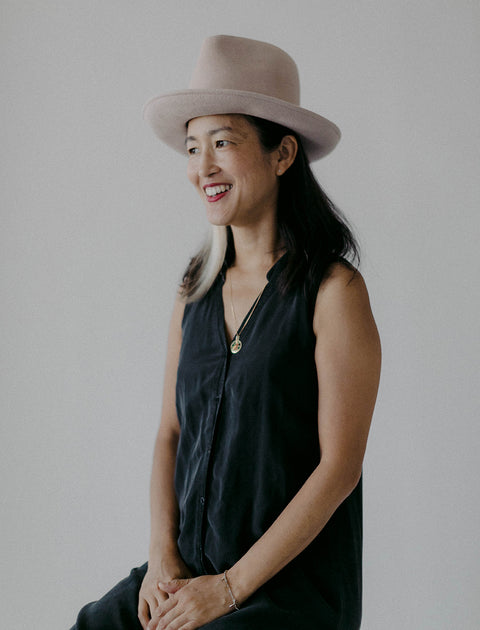 Shoemaking // Keiko Hirosue
Taking the Unconventional Route
Born in the USA, Keiko Hirosue grew up in a beach town in Kanagawa, Japan. She studied at Keio University Shonan Fujisawa Campus. After graduating, she moved to NYC to apply to law schools. However, this all changed when she took her first shoemaking course in 2003. Keiko was immediately hooked on shoes and began working her way through the corporate fashion industry, independent fashion brands, and footwear companies to understand the industry better. Later, after creating a collection of her own, she decided to focus fully on her love of shoemaking.
Constantly seeking out instructors to teach her new skills, she began to recognize the need for a central hub that would encompass all-things "shoemaking" – a space where she and other makers could make big messes without messing up their tiny NYC apartments. She felt the need to create a resource for shoemakers in search of supplies and a classroom for those who want to learn how to make shoes by hand. This space became reality with the Brooklyn Shoe Space, a coworking and classroom space for shoemakers and leather workers.
In 2020, the Roebling Street Storefront location closed its doors due to Covid. It has since moved to a new home in East Williamsburg, where Keiko continues to teach shoemaking classes and build a community around shoemaking.   
Iroha: What projects are you currently working on?  
Keiko: A student recently came to me with handmade clogs and platforms she had sculpted. She wanted to make the upper shoe and finish the pair. In the shoe world, "lasts comes first," so to start from the outsoles and finetune things to fit the outsole component as well as your foot, making a completed pair of shoes, is not an easy task. It's been a fun challenge, and she will come out with over 10 pairs of shoes in roughly 10 sessions!
Iroha: What have you most recently completed or plan to do in the near future?
Keiko: I plan to host corporate team-building and professional development workshops for footwear and fashion brands where they can come, decompress, design, and make a pair of shoes from start to finish. It's a great way to bridge the gap between the maker and the final product and to further the understanding of what goes into shoes.
Iroha: What are your thoughts regarding Asian hate and Asian glass ceiling issues? In the rise of Asian hate crimes, is your community (local, artist, business, etc.) affected in any way? How do you feel about that, and are you involved to address the issue? If so, please tell us how. Alternatively, you can also talk about Asian glass ceiling issues or any other cause you personally support.
Keiko: On a personal level, the recent hate crime rate towards Asians in NYC has alarmed me more than ever before in the 19+ years that I've lived here. I am more alert on public transportation, and I also choose to take an alternative mode of transportation, like a Citi Bike, instead to avoid crowds. But in the grander scheme of things, I don't think it's only Asian hate that's an issue, but it's all the hate crimes toward BIPOC and LGBTQ+ that are prevailing. It's a senseless thing. The history runs deep.
Myself, as an Asian, I can only show by example. I am proud of my heritage, and I strive to be inclusive of everyone regardless of gender, race, age, ability, or socio-economic status. I treat every person with respect. Diversity should be a strength of America. We're all different, and we can learn from each other without hating or berating one another. I want to believe it's possible. One way I support my community is by offering scholarships, so everyone has a fair opportunity to take a shoemaking class at Brooklyn Shoe Space. 
Iroha: Based on your background, do you have any advice or a message for young people who want to follow in your footsteps?
Keiko: I didn't take a conventional route to get to where I am today. So, looking back, I would say that if you have a passion for something you wish to do or be, keep working toward it every day, however big or small the steps may seem. Along the way, you'll meet many people who will lend you a hand. I hope that you cherish each and every one.
Iroha: Outside of work, what are you most interested in right now?
Keiko: Oh, I'm head over heels for my family unit. I have a son who's 17, almost going to college, and an almost 3-year-old daughter. They are the light of my life. I want to spend more time with them while I can. I sometimes work too much, and I have to change that imbalance a bit. 
I'm on Duolingo trying to learn Spanish. That's my new interest. 
I wish to take roller-skating lessons (anyone? teach me?) so I can roll and dance - I'm still just a novice skater.
Jump roping is another thing I started doing during the pandemic.
And when I have the time and the chance, I love to go check out new yummy restaurants that keep popping up, despite the pandemic. It's not every day that I do that, but I like to when I can.
writen by Jessica Woolsey
Brooklyn Shoe Space Website | Instagram