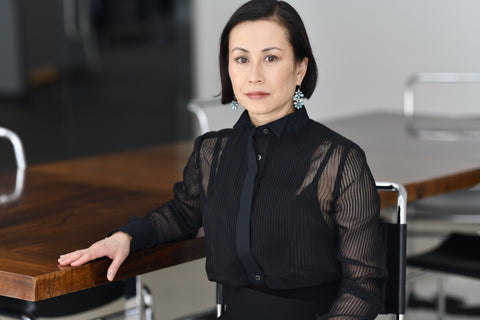 Art and Fashion in Business // Miki Higasa
A Curious Mind Sparks Creativity
Miki Higasa was born and raised in New York City. After graduating from college, Miki moved to Tokyo and began her career in International PR and Special Projects at Comme des Garcons where she worked in Tokyo for 6 years and New York for another 9 years.
After gaining this valuable experience, Miki founded her own Brand Strategy PR/Marketing firm, Kaleidoscope Consulting.

sacai FW 2022 ready-to-wear 
Iroha: What projects are you currently working on? You may also discuss recent work or future projects.
Miki: I have the pleasure and fortune to work with many compelling and extraordinary creatives for whom I do brand strategy, PR, and Marketing. In addition, I have a small non-profit I share with 3 other incredible women in the fashion industry. Our group is called Fashion Girls for Humanity. We have raised funds to contribute to disaster relief for Fukushima, Japan and Hurricane Sandy, as well as an initiative to put garment workers back to work by way of having them make PPE for hospitals and most recently for a pop-up store in Paris for Ukrainian fashion designers. 
Iroha: How do you see your role in society (in the context of increasing Asian hate crime for example) or in the business (breaking the Asian glass ceiling for example).
Miki: Any hate in relation to our differences should not be tolerated. But being Asian, of course, I am indignant about Asian hate crimes.  
Iroha: Based on your background, do you have any advice or a message for young people who want to follow in your footsteps?
Miki: Have a curious mind. No matter what you do at any level, you learn things every day.  
Thom Browne FW 2017 ready-to-wear
Iroha: Outside of work, what are you most interested in right now?
Miki: I've always been interested in art, culture, music, and traveling. 
written by Jessica Woolsey / photography : Pamela Berkovic (portrait) , Maria Valentino (sacai's show) , Dan Lecca (Thom Browne's show) 
Kaleidoscope Consulting | Instagram