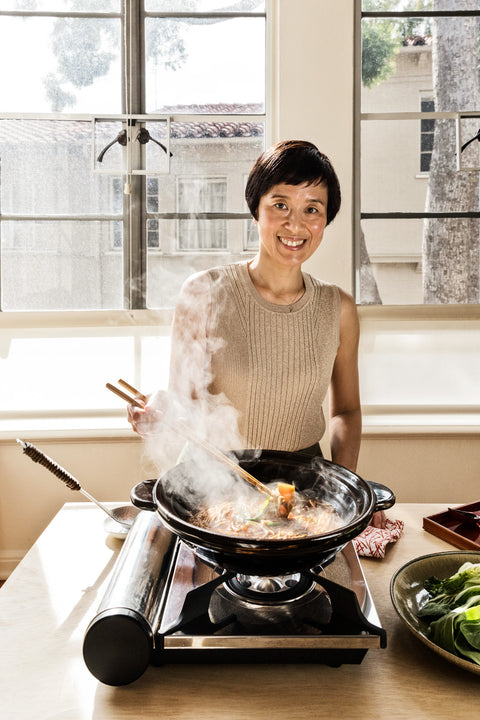 Japanese Food Culture // Naoko Takei Moore
Spreading the Joy of Donabe Cooking
Naoko Takei Moore (a.k.a. Mrs. Donabe) is the owner of TOIRO in West Hollywood in Los Angeles, California. As a native of Tokyo, Japan, Naoko grew up eating rice, and her parents ensured that she developed a palate that appreciates the best quality Japanese and international cuisines.
Naoko moved to Los Angeles in 2001. With a healthy passion for good food and wine, Naoko graduated from the Le Cordon Bleu Program at the California School of Culinary Arts and earned a Wine Expert certificate from the Japan Sommelier Association.
In 2007, Naoko discovered the donabe, a double-lidded rice cooker "Kamado-san" made by Nagatani-en in Iga, Japan. The donabe made the best quality rice Naoko had ever tasted. It didn't need any condiments because it was so delicious. It became her passion to introduce this amazing donabe to the US.
In 2008, Naoko built a website to sell the product. In 2015, Naoko published DONABE (Ten Speed Press), the first English language and multiple award-winning book dedicated to the subject. 
In 2017, Naoko opened TOIRO. Featuring many kinds of authentic Iga-yaki donabe and pottery products by Nagatani-en, TOIRO's mission is to spread the wonderful Japanese food culture and healthy lifestyle.
Iroha: What projects are you currently working on? What have you most recently completed or what do plan to do in the near future?
Naoko: I think my ongoing project (mission) is to spread the joy of donabe cooking and promote the healthy Japanese lifestyle through donabe cuisine . I have a shop in Los Angeles, and that's where I introduce donabe (from Iga, Japan), other artisanal kitchenware, and tableware from all over Japan. Through my shop, I hope to bring happiness to everyone who connects with us. I also plan to complete some recipe video projects in the next month so people can watch step-by-step donabe cooking of healthy dishes. 
Iroha: How do you see your role in society or business?
Naoko: I feel that, through what I do, I can help inspire interest in Japanese culture and help remove any boundaries between cultures. Also, through cooking and food, we can bond and create connections, so that's what I focus on.
Iroha: Based on your background, do you have any advice or message for young people who want to follow in your footsteps?
Naoko: You don't need to care too much about what other people are doing. You can just follow your passion. Don't listen to all the advice coming from outside. The sky is the limit.
Iroha: Outside of work, what are you most interested in right now?
Naoko: Listening to old jazz.
written by Jessica Woolsey