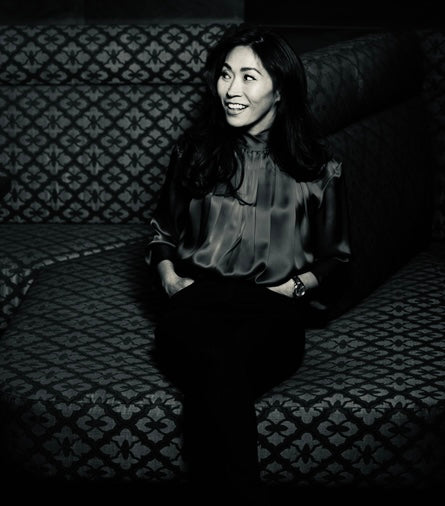 Creating Community // Reika Alexander
Making Magical Connections and Celebrating Culture
Reika Alexander is a Japanese-born restauranteur and food entrepreneur. Alexander began her journey pursuing a career in music. She started playing the piano at the age of five and continued to develop her musical talent through her college years, attending the Tokyo College of Music to study music composition, and later Middlesex University in London to study jazz. Alexander eventually returned to Japan and joined her family's company, which has over a dozen restaurants throughout Japan, to learn the restaurant industry and assist in the opening and development of the first EN in Japan.
In 2000, her family began to consider a U.S. location of EN, and Alexander volunteered to scout the New York scene. On her first visit to New York City, she was stunned to find Japanese restaurants serving only sushi and sashimi. She believed that New York diners were missing out on the rich and exotic flavors found in traditional Japanese cooking.
In 2004, she opened the West Village neighborhood's mainstay En Japanese Brasserie, which is known for expanding New York's vernacular for Japanese food and culture, as well as its A-List clientele. Alexander's sensibilities in music and passion for authentic Japanese cooking express a sense of balance, soul, and rhythm.
Iroha: What projects are you currently working on, and what do you want to mention most recently or in the future?
Reika: I am currently working on Kasé: a dashi soy sauce which is a common Japanese condiment used to make everything from soba noodles to teriyaki sauce to salad. Japanese cooking at home will be much easier and more delicious. You can keep updated on the launch by following @enjapanesebrasserie on Instagram. I am also very excited about writing my first book. It will be filled with recipes, inside stories about the history of EN, interviews with very special regular guests, and education on Japanese culture and cuisine.
Iroha: How do you see your role in society or in the business?
Reika: When I opened EN in 2004, I was one of the only female Asian restaurant owners. Years later, there are still very few of us. My presence in this space is certainly impactful. My role in society as well as in business is to connect people. It has become a huge part of what I do to make magical connections happen that lead to wonderful collaborations. En has also become a community for Japanese people in New York to come together and celebrate our culture. I never expected to be able to do all of this around a restaurant. It's so much bigger than food - it's about a chain of connections supporting each other.
Iroha: Do you have any advice or message for young people who want to follow in your footsteps?
Reika: My advice is to be flexible and open minded. You should respect culture and history but you can really think outside of the box and follow your gut. It might be taboo for the culture you're from but being in America can give us a chance to be more free. Anything can happen especially now that we have more resources than ever. You should learn from different cultures and create your own culture.
Iroha: Outside of work, what are you most interested in right now?
Reika: Right now, I'm interested in creating a community living center that focuses on sustainability. Residents can produce their own food and be a self-sustaining community composed of a great group of people. I'm interested in creating a circle of passionate, caring, and loving people. This way, you can create your own world. I've learned that it's important to make choices about who you surround yourself with. Time is really precious and goes fast. It's so important to be with warm-hearted, good people. This is also true for work environments. 
written by Jessica Woolsey
En Japanese Brasserie | Instagram